Cuts and Coffee
A barbershop's digital evolution from razors to pixels
Cuts and Coffee is a grooming brand that aims to provide a luxurious experience by combining the expertise of barbering with the comfortable ambience of a coffee shop. Their goal is to transform the conventional grooming experience by offering their customers a soothing environment. They want to create a relaxed atmosphere where customers not only leave with a well-groomed appearance but also feel revitalized and confident.
Services Provided
Consulting and Strategy
UI/UX Design
Website Development
Custom Software Development
Web Hosting and Maintenance
Project Timeline
Apr—Sep 2023
Challenge
Cuts and Coffee was seeking to grow their online visibility and establish their brand. Since they didn't have a website, they faced difficulties in presenting their services and attracting new customers. Furthermore, they had intentions of introducing a membership program and providing home service options. Realizing these obstacles, they approached us for help to succeed in the modern digital landscape.
Approach
Our approach to addressing this challenge encompassed a strategic blend of creative design, technical expertise, and digital innovation. Our primary focus was to create an attractive and user-friendly website that could help establish a strong online presence. We tried to capture their unique ambience and showcase their high-quality services through thoughtful design. We worked closely with the client to refine their brand identity by incorporating their logo design, colour schemes, and typography to communicate their values to the digital audience.
Picture-Perfect Elegance
By combining engaging photographs and fascinating information, we have carefully created a visual narrative that elegantly expresses the unique ambience and superior services of Cuts and Coffee. The visual story we have crafted on their website captures not only the aesthetics but also the essence of Cuts and Coffee, providing a compelling invitation to be a part of this innovative and one-of-a-kind business.
Crafting Sophisticated Excellence
We opted for a polished visual design, with ample white space to reflect the luxurious atmosphere of the barbershop. Additionally, we emphasized authentic testimonials and reviews from satisfied customers to reinforce the barbershop's reputation for quality. We also ensured that the browsing experience was seamless and responsive on all devices, in keeping with the barbershop's commitment to excellence across all platforms.
Tailored Experiences and Clear Pathways
We explored ways to give the users a tailored experience through the integration of several strategic elements. One of these elements is a personalized quiz that allows visitors to effortlessly select their ideal haircut. This led to an experience that is highly customized and caters to each customer's unique preferences.
Immersive Interactions
We enhanced user interaction on Cuts and Coffee's website through dynamic elements like 3D cards for membership, seamless transitions, parallax scrolling, and subtle animations. These additions add depth, movement, and engagement to the browsing experience, creating an immersive journey that captivates users, leaving a lasting impact.
Delivering Clarity and Convenience
To empower Cuts and Coffee's exciting new ventures – the Membership Program and Home service – we strategically designed distinct sections on the website. These specialised segments work as thorough information centres, providing crystal-clear details that let potential customers easily understand and take part in these innovative services. Our strategy guarantees a smooth and simple user experience, enabling a seamless change from exploration to engagement.
We're seriously impressed by what Ottr did for our website. They really got our vibe, and the site turned out even better than we hoped. Big thanks for their hard work, and we're pumped for more projects together!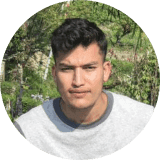 Prabin Prasai
— Co-founder, Cuts and Coffee
Disclaimer
Some of the layouts and stories presented here are conceptual and were removed during production.